We offer supreme quality PTFE Wires which is well-marked in the industry for its durability. The PTFE Coated Wire is efficient enough since it is non-flammable and weather-proof. The PTFE Wires that we offer, can withstand a huge range of temperature from (-) 60º C to (+)260 ºC. It is insulated properly so as to ensure 100% safety. We are among the reliable PTFE Wires Suppliers in India. Besides, we are renowned PTFE Insulated Wires Exporter based in India. Few notable properties are as under:
\n
\nNon-Flamability:
\nThe Insulation is fire (Flame) proof i.e. non-flamable.
\n
\nFlexibility:
\nP.T.F.E. wires are manufactured with best available stranded copper wires, giving better flexibility for comfortable use in the wiring.
\n
\nWorking Temp.:
\nIt's working Temperature range is (-) 60° C to (+) 260° C.
\n
\nWeather Resistance:
\nThe insulation have not shown any notable changes in it's electrical, mechanical or chemical properties even after out door exposure for over 20 years. It is also unaffected by exposure to ultraviolet rays.
\n
\nChemical Resistance:
\nInsulation is inert to virtually all known Acids, chemicals and solids.
\n
\nElectrical Stability:
\nInsulation electrical properties do not change even after long-term heat aging. Insulation has low dielectric constant and dissipation factor, it's high dielectric strength and insulation resistance shows minimum changes over wide temperature, frequency and voltage fluctuations.
\n
\nSpace Saving:
\nP.T.F.E. wires is of less O.D. for the same current carrying capacity of PVC Insulated wires, thus saves space to facilitate more no. of insulated wires in the same conduit. It's smooth surface also facilitates easy conduit pull.
\n
\nWe defined few properties as above, but PTFE Insulated wires have more unique properties such as antistic, non-contaminating, non-toxic, resistant to fungus, non-wet, resistant to impact, tearing, abrasion, cut-through and cold-flow etc.
Specifications
| | |
| --- | --- |
| Product Name | Ptfe Wires |
| Brand Name | Tanya |
| Temperature range | (-) 60° C to (+) 260° C. |
| Chemical Resistance | Insulation is inert to virtually all known Acids, chemicals and solids. |
| Condition | Good |
| Place Of Origin | Meerut,U.P |
Additional Information
| | |
| --- | --- |
| Min. Order Quantity | 500 Piece(s) |
| Payment Terms | T/T |
| Delivery Time | 3 to 4 Days (Min.) |
Technical details : PTFE INSULATED WIRE & CABLES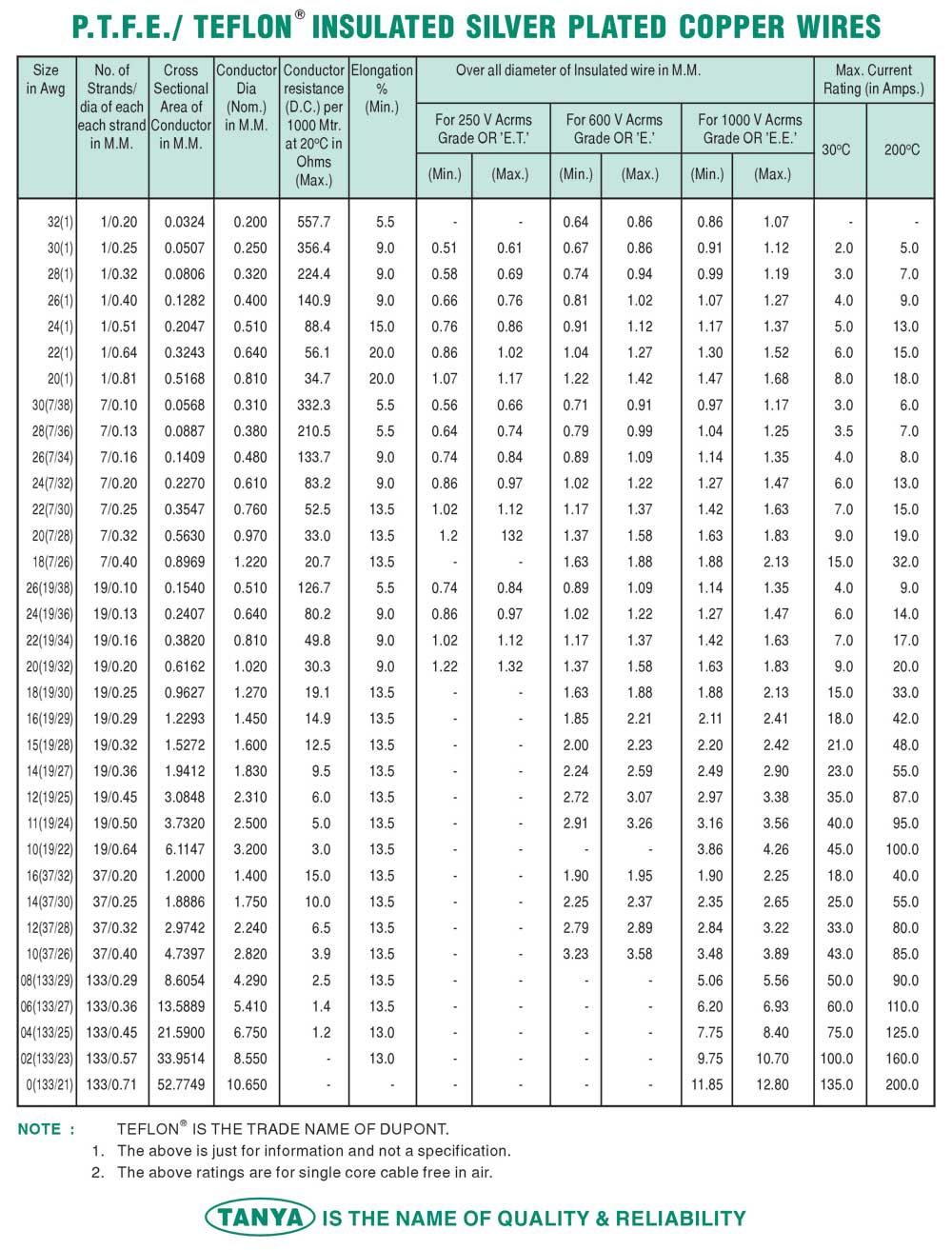 To enquire about the desired product(s), just check the box and then click "Enquiry Now" button which is provided below.